Has the golden age for Chinese money market funds passed?
With the market diversifying and stifled by regulatory intervention, analysts say the best time for profit making in Chinese money market funds (MMFs) has slipped away
As the second largest money market fund (MMF) market globally, the Chinese MMF market is undoubtedly losing some momentum, weighed down by regulatory intervention. The Chinese MMF industry is expected to further diversify as more players tap into this market.
Chinese regulators have been introducing new rules applicable to Chinese MMFs in an effort to manage potential liquidity and concentration risk. No new MMFs have been launched so far in 2018, due to the regulatory tightening and slowdown of the China Securities Regulatory Commission's (CSRC) approval process, according to a recent report by Fitch Ratings.
Despite the restrictive regulations, the MMF market continues to grow – but with less momentum.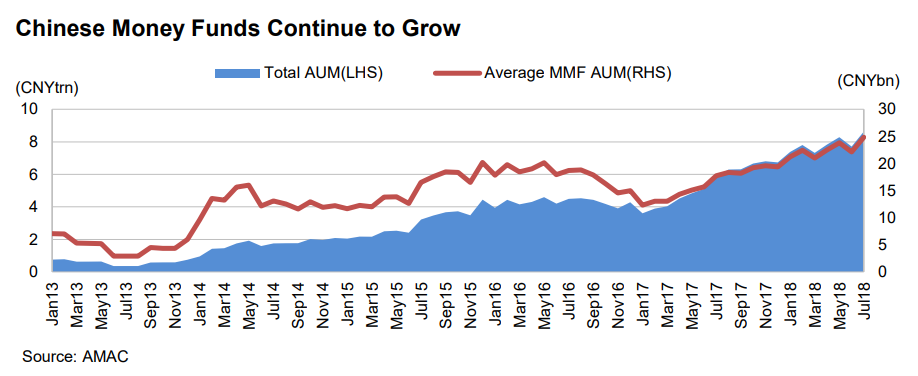 Chinese MMF AUM has grown 50% over the last 12 months, reaching 8.6 trillion yuan (US$1.3 trillion) as of end July this year, according to Fitch Ratings. Since 2017, the market growth has been driven mainly by retail demand.
But the golden age for Chinese MMF has passed, according to Chinese analysts, noting that regulators have lowered the thresholds for issuing mutual funds, which will lead to more players coming in.
The Chinese mutual fund market is overwhelmingly dominated by MMFs, which accounted for 67% of the market as of end Q2 2018, according to Fitch Ratings. Late last month, new rules were rolled out, lowering the threshold for Chinese commercial banks to issue mutual funds.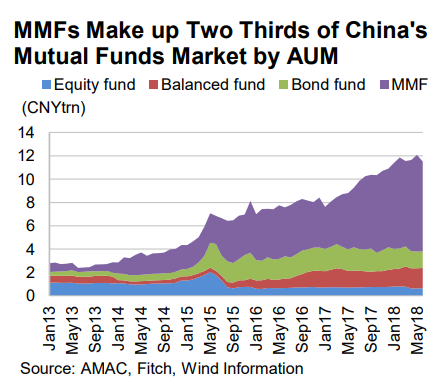 "We are not seeing prominent diversification so far in the MMF market, but the fund managers and platforms need to come up with countermeasures as the market is to be diversified very soon," says a fund manager based in Shanghai.
His view is supported by Fitch Ratings, who expects Chinese MMF market to further diversify by fund managers and platforms due to sustained regulatory intervention.
Currently, the proportion of MMF assets represented by the three largest funds has decreased from the 33% as of the end of June last year, to the 27% as of the end of June this year, according to Fitch Ratings.
Yu'E Bao, China's largest MMF, experienced the highest outflows in its history in Q2 2018 after its assets reached a record high of 1.69 trillion yuan at end Q1 2018. Its asset under management had fallen to 1.45 trillion by end Q2 2018, recording an outflow of 14%.
"With the market growing and further diversifying, the best time when Chinese MMFs were recording high profits has gone," says the fund manager in Shanghai.
Chinese MMF yields started to decline from July 2018, with the market average seven-day yield reaching slightly above 3.0% ending August this year, according to Fitch Ratings.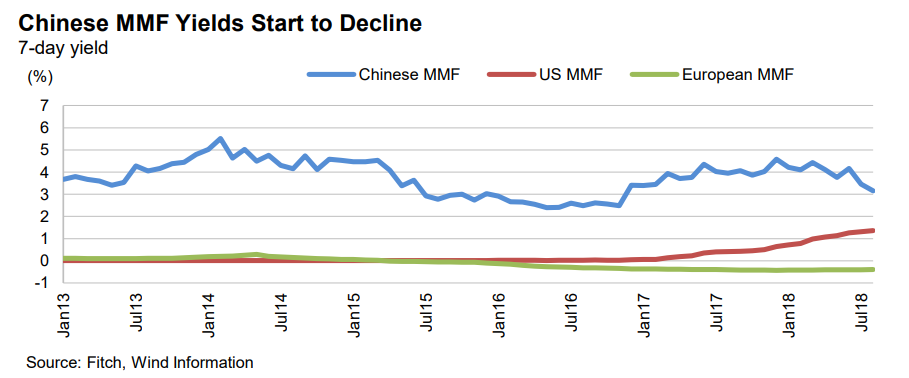 But the declining yields will not prevent capital from flowing into Chinese MMFs, Fitch Rating predicts. Under the backdrop of falling financing costs and the lack of competitive investment products for investors, Chinese MMF market will continue to grow.
-------------------------------------------------------

Social Media Links (This section can be seen in office only):
Twitter : https://www.theasset.com/article-single.php?id=35177&social=twitter
Linkedin : https://www.theasset.com/article-single.php?id=35177&social=linkedin
Facebook : https://www.theasset.com/article-single.php?id=35177&social=facebook